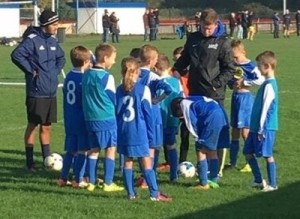 Hall Road Rangers U8s Vs Costello Rangers U8s
Under 8s Keep in Good Spirits
1st game – 1st half
After finding out that Dene Park had arranged a car boot sale and not informed the football teams the game was cast into doubt but quick thinking by Costello and Hall Road management soon saw the game back on but on a neutral ground.Hall Road started the stronger and knocked the ball around like seasoned pro's Jay Rouse latched on to a Hazza through ball and unleashed a thunderous drive which was inches wide.Hazza then won the ball in midfield and again played in Rousey and this time he made no mistake and burried it from outside the area 1-0 HRR.Costello made a brief foray into the Hall Road half but Ryan Bursill who had an outstanding game broke up the pattern of play and laid a good ball off to Hazza who found Rousey with 1st touch pass Rousey then fed in Bailey Fuller comming in off the right wing his cross was hit to the back post but Rousey just failed to connect fantastic move from these young lads.Hall Road really wanted this bad and every one was chipping in with top performances from Mark Bradley at the back with some outstanding tackles and great awarness to play to feet and his partner in crime Ryan Bursill who got stuck in on many occassion.Young striker Owen Kirke was leading the front line well and also dropping back to cover midfield this was some of the best football produced from the under 8s this season with slick one two's and one touch football only the width of the post and good saves by the keeper denied HRR scoring any more in the first half.
1-0 Half time.
2nd half
This half the tide turned and it was Costello who made most of the good play count they pressured HRR and forced man of the match Kieran Spicer into some fines saves,Hall Road tried to get back to their passing game with Hazza and Jay(chopper)Harding switching passes unfortunalty the end product of finishing seemed to desert the front 2 in this half.With Costello pilling on the pressure it seemed only a matter of time before they scored and when they did it was a belter the Costello Striker catching a fine volley on the turn on the edge of the HRR area and the ball smashed home to level the scores.Mark Bradley countinued to plow in to fantastic tackles and time and time again he tharwted Costello a 1 man wrecking machine.For all his effort and the rest of the team who took a leaf out of marks books they couldnt quite hold on and in the dying seconds Costello finished a well worked move with another great strike to make it 2-1.
2nd game – 1st game
Back to the fine football that was shown in the first game it really is amazing to see these young charges knocking the ball about like mini pro's Owen was back to his Ronaldo best twisting and turning and Bailey making light work of the wing skinning players on the right.A four man move saw Hall Road forced a corner and a wicked whipped in corner from Hazza saw Owen get his head on it just to see it flash just wide.Not alot of goal mouth action in this half with both defences standing up well, and dictating the play was Ryan Bursill who showed he can pass as well as tackle the oppostion.Keiran was forced into 1 decent save but the half petered out to end 0-0.
2nd half
Costello again came out fighting and forced HRR onto the back foot and a strike from outside the area saw it go just over Keiran's bar to be fair Kieran didnt seem to bothered about the shot such is the confidence of this young stopper.When Costello came calling again the team work of chopper and Ryan saw off this attack working together like two old tag team wrestlers each taking a turn to tackle.A massive kick by Keiran saw jay race onto it but just a touch to late as the ball ran into touch.Mark Bradley won the ball in his own area and got up to beat 2 attackers and he carried the ball majestically forward he was very unlucky his pass didnt find Bailey who run into space good play by mark though, old head on young shoulders.Ragen Allitt found his rewards for some good performances of late with a place up front and he didnt let himself down with some fine runs and good awareness of players around him.Both teams were looking for the killer goal to finish this game off and when Costello won a corner the ball in caused panic in the Hall Road area with players getting in each others way it was left for a simple tap in 1-0 Costello.Hall Road tried to counter with the old long throw routine from Hazza his ball found Rousey who was somewhat unlucky to see his shot hit the side netting.Chopper tried to stir things up after winning a fine tackle in midfield his through ball was perfect for Bailey but this attack fizzled out and when the ref blew for full time it remained 1-0 to Costello.
Man of the match Keiran Spicer, Most improved Mark Bradley
Written by shane begbie  – Sunday, 29 March 2009