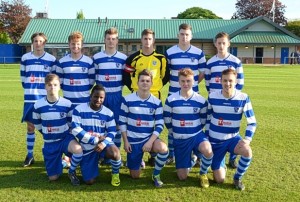 Selby Town 0 Hall Road Rangers 0
Hall Road put in another fantastic performance to get a well earned draw with Selby, and put any chances they had of promotion away for another season. Rangers welcomed back to the line-up Jamie Barnwell who came in for Phil Jackman who was unavailable, also unavailable was Dave Ingram who was replaced by Lee Parker.
The first half was dominated by the visitors and with some better finishing they could have gone into the break in front. The manager must have been delighted with the performance as you couldn't tell who where the team pushing for promotion as Rangers played some outstanding football that hadn't been seen since October.
The second half began and Selby took control for long periods but Rangers held firm and where still able to create chances of their own. The game finished goal less but it was never a dull game with both sides having plenty of opportunity's to take the points, so it was probably a fair result in the end.
Jamie Barnwell must have been delighted with the performance as the team as a whole performed to their true potential, and there where some great individual performances too as the defence looked solid with both Lee Macklin and Mike Gibson been on the top of their games and when called upon Mike Burley was outstanding between the sticks pulling off some glorious saves.
The midfield ran its self into the ground with Lee Parker giving his all. Martin Thacker, Paul Wilson and Adam Walker provided the engine room as they worked hard all night and up front Jamie Barnwell and Paul Palmer never stopped running. Dave Gilbey and Steve Graham provided that something extra out on the wings, and the two subs Paul Morrill and Steve Gawthorpe can be pleased with their contributions as they came on and played their part, so the whole team deserved a big pat on the back and it is hoped they can carry these performances on into the last couple of games.
Hall Road Rangers: Burley, Graham, Gilbey, Gibson, Macklin, Parker, (Morrill 79), Walker, (Gawthorpe 66), Thacker, Palmer, Barnwell, Wilson.P
Sub not used: Wilson.D
Attendance: 137Written by Paul Maunoury
Saturday, 25 April 2009