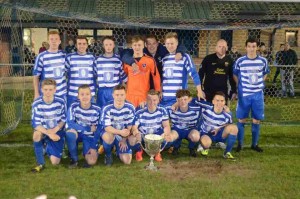 Tickton 0 Hall Road Rangers 6
This game started with Hall Road still harbouring faint hopes of the league title. It was a one sided affair with constant Hall Road pressure on the Tickton goal. The first goal when Alex Wilde drilled the ball home from the edge of the box after a defender had headed the ball out. Jack Nicholson went close with a snap shot. The second goal arrived when Josh Fairburn took the ball on his chest and lobbed the keeper from the edge of the box. The third goal came about when Connor 'Smudger' Smith swung over a corner which was met firmly by Josh Fairburn's head. A Dylan Forster pass to Smudger; a shooting opportunity which he gratefully accepted to put Hall Road four nil in front. Smudger was involved in the fifth goal; it was his corner that was headed home by Jordan Williams. The Hall Road defence of Jordan Williams, Josh Green, Danny Higgins and Jacob Parker were relatively untroubled during the first half.
The second half began with a passing movement in midfield involving Alex Wilde and Joel Tackie, which finished with a cross from Joel finding the head of Jack Nicholson. His header was saved by the keeper. George Burnett the Hall Road goalkeeper was finally called into action as he dived to his right to save the ball from flying in just inside the post. Lewis Kilner went on a jinking past three opponents and then slid a pass through to Smudger whose cross led to a penalty. Up stepped goalkeeper George Burnett to confidently slot the penalty home. This was his first goal of the season. It also meant every player in the team has scored a goal during the course of the season. Zak Penn in midfield had made his usual hard working contribution, including good run followed good cross into the box for Lewis who went close with his shot. The final goal came from which was headed in by Josh Fairburn.
Hall Road under 15s Trash Tickton as title chase continues PDF Print E-mail
Friday, 24 April 2009 – Written by George Tackie
Tuesday 14th April 2009 -Beverley Kick Off –  Formation: George Burnett, Jordan Williams, Ben Jubb, Josh Green, Joel Tackie, Jacob Parker, Lewis Kilner, Zak Penn, Connor Smith, Josh Fairburn, Jack Nicholson, Dylan Foster, Danny Higgins, Alex Wilde